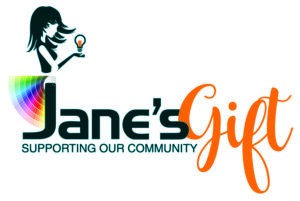 Jane's Gift, an initiative of Creative Jane run annually. Jane's Gift will fund an annual pledge of 10 hours of design time to a local charity or sporting club.
Are you a local sporting group? or non for profit organisation?
then apply for Jane's Gift an annual pledge of design time to a local charity or sporting club.
Creative Jane is a locally based design house passionate about supporting the local community. With several years experience working with organisations of various sizes and industries, Creative Jane's vision is to bring creative ideas to life.
"Your brand represents the story behind your organisation," explains Natalie Walsh, Founder of Creative Jane. "Who you are and what you do is one part of that story; the combined experiences, feelings and perceptions that your brand evokes are the other."
"Jane's Gift will assist charitable and sporting organisations build a stronger brand awareness and allow them to implement a strong marketing campaign behind their local events."
Email through your details to info@creativejane.com.au to be this years recipient.
JANES GIFT RECIPIENTS:
2019 - Macleay Bushfire Parade & Concert
(Logo, Posters, Social Media)
2018 - Livin Charity Ball Kempsey
(Sponsors Board, Auction Booklet, Posters, Pull Up Banners)
2017 - Kempsey Scout Group
(Logo Redraw, Marketing Collateral)
2016 - Early Connections
(Logo Design - 5 centres, Letterhead)
2015 - Kempsey Respite Services
(Logo Design, Letterhead, Email Signature)
OTHER PROJECTS CREATIVE JANE IS PROUD TO BE A PART OF
Kempsey Railway Centenary